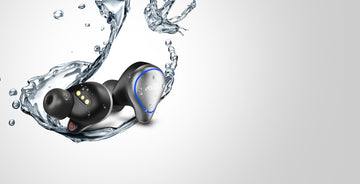 The Mifo 05 earbuds reward owners with unmatched real stereo sound. This device is a set of wireless earphones. With the Mifo O5, you can connect your earbuds via Bluetooth to an audio source, especially your mobile phones, without the conventional cables.
Mifo 05 is quite different from a handful of true wireless earphones that appear bulky and less stylish. The earbuds are aesthetically pleasing because of its metallic outward design. The inner compartment has a soft and durable plastic finish that fits perfectly with various ear shapes.  
Besides the appealing build, the Mifo 05's teardrop-like appearance secures the device to your ear. This means you can comfortably wear the earbuds in the gym without adjusting them after a few movements.  
Also, you get impressive accessories when you purchase these wireless earbuds. It comes with a manual containing instructions, the charging case, and a micro USB charging cable. The case functions as both a charging case and a carry or storage case. The ear tips are equally lovely, but you may desire variety in this aspect.
In addition to the above, the wireless unit is water-resistant. So, you need not to worry whenever you are in the rain. Besides, the Mifo O5 device possesses built-in microphones equipped for making calls, as well as four buttons for music playback. Best believe, the process of connecting your phone with the Mifo O5 takes a few seconds.
The sound quality is also stable and energetic. Mifo O5 offers light bass sounds with speed. Go for this wireless earbuds if you are big on classic rock, and jazz music.